Back in the day, I was a sucker for that sugary cereal aisle at the grocery store. I'd stock up on the variety pack of instant oatmeal and a family-size bag of what was advertised to me as "heart-healthy" granola. At the time, one glance at the shiny label was all the convincing I needed to load up on sweet and convenient solutions to my breakfast and snack dilemma.
Of course, now, I understand just how unhealthy those options are to my vitality and wellness goals. Predominately based off refined sugars that spike our blood sugar and causing energy crashes, packaged cereals and granolas also lack foundational nutrients like quality protein and healthy fats that keep us satisfied and metabolically fit.
That's why today, I'm constantly experimenting for new ways to reinvent the old packaged goods into nutritious masterpieces! This version has a subtle sweetness from the caramelization of activated nuts and seeds, plus a sweet boost from the organic stevia plant. I add protein powder and collagen so every bite contributes to a balanced meal that supports lean muscle mass and strong cells!
As for the superfood seasoning…ginger gives a wonderful spicy flavor, promotes healthy digestion, and fights inflammation. Turmeric is also anti-inflammatory, fights free radicals, and is actually good for your heart! Ashwagandha is a little less familiar but up and coming in the wellness scene with its powerful benefits of balancing blood sugar levels, regulation of hormones and reduction of stress and anxiety. I'll take it!
Top this granola onto a thick smoothie and call it ice cream or scoop a spoonful to munch all on its own! I hope it becomes a weekly meal prep staple in your home bringing you lots of crunchy joy and lasting energy!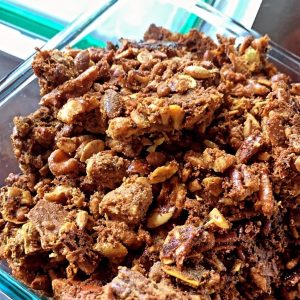 Sugar-Free Superfood Granola
One crunchy bite into this satisfying granola and you'll never go back to store-bought again! Powerhouse nutrients are simply prepared without added sugars, artificial flavors or processed ingredients for an indulgent nutty treat perfect to garnish your morning smoothie, protein pancakes, or yogurt bowl!
Ingredients
1/4

cup

sprouted almonds

chopped

1/4

cup

sprouted walnuts

chopped

1/4

cup

sprouted pecans

chopped

1/4

cup

sprouted pumpkin seeds

1/4

cup

sprouted sunflower seeds

1/4

cup

unsweetened coconut chips

1/4

cup

sprouted rolled oats

optional

1

tbsp

flaxseed meal

30

grams

protein powder or collagen

1

tsp

cinnamon

1

tsp

ground stevia leaf

1/2

tsp

ashwagandha powder

1/2

tsp

ground turmeric

1/2

tsp

ground ginger

pinch

Pink Himalayan salt

1/3

cup

coconut oil

melted
Instructions
Preheat oven to 350 degrees Fahrenheit. Line a large baking sheet with parchment paper.

Heat coconut oil in a saucepan to melt on low heat while you prepare your dry ingredients.

In a large bowl combine all the nuts and seeds of your choice, oats if adding, protein or collagen, and dried seasonings.

Carefully pour melted coconut oil into nut mixture and stir until fully incorporated. Granola mixture should have a slightly wet, sandy consistency.

Pour granola mixture onto prepared baking sheet. Spread into one flat and cohesive layer. Make sure all ingredients are connected to avoid anything burning.

Bake granola in oven for about 20 minutes, or until nicely browned.

Remove granola from oven and allow to cool for about 5 minutes. Break granola to your desired size of chunks. Store in an airtight container in the fridge for up to 2 weeks.