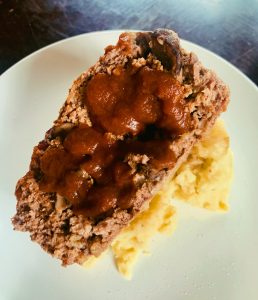 Do you have any nostalgic memories of meatloaf from childhood? I always remember a stark difference between the meatloaf my mom would make me at home (which was delicious), and the gray hued cafeteria meatloaf I would politely pass up in my school lunch line. My mom's was no frills, made with ground beef, lots of dried seasoning, and a sprinkle of plump raisins for a delightful sweetness that complimented her Heinz ketchup topping.
After surveying friends and family, I learned that meatloaf isn't usually at the top of favorite comfort foods due to its reputation of being bland and having an unpleasant texture. I knew that if I played with a combination of less traditional proteins, added fresh herbs, and ditched the processed condiments, there was no doubt this new and improved meatloaf recipe could triumph above all those less than palatable experiences!
This meatloaf is an excellent weeknight entree because it's made with affordable ingredients, it's easy to prepare, and who doesn't love a retro throwback?! Because you bake the meatloaf low and slow, it comes out perfectly moist and bursting with juicy flavor. You can serve for dinner with fluffy mashed potatoes and a simple salad. And if you have leftovers, I like frying a slice on a cast iron skillet and serving it with a gooey egg for a hearty breakfast.

Are you hungry yet?? Check out the recipe and let me know how you like it!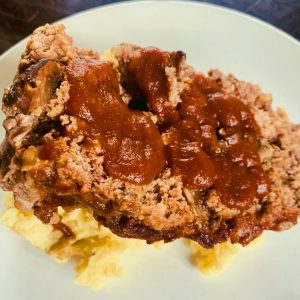 Not Your Mom's Meatloaf
An unexpected take on a humble nostalgic comfort food. Traditional ingredients are swapped out with nutrient-dense, minimally processed alternatives. Every juicy bite is rich in flavor and full of warmth, making it a perfect family meal to share.
Ingredients
1

lb

ground bison

1

lb

ground lamb

1

slice

pasture-raised bacon

thick cut

1

medium onion

chopped

1

tbsp

fresh thyme leaves

1/3

cup

beef bone broth

1

tbsp

tomato paste

2

tbsp

Worcestershire sauce

2

unflavored rice cakes

pulverized into crumbs

1/2

cup

egg whites

1/2

tsp

pink salt

1/2

tsp

white pepper

1/4

cup

ketchup

unsweetened
Instructions
Preheat the oven to 325 degrees Fahrenheit.

Heat a saute pan over medium heat and add the bacon slice. Cook for about 3-4 minutes per side until crispy. Remove bacon from pan and set aside to drain excess oil.

In the same pan, add chopped onions, salt, pepper, and thyme leaves. Cook for about 10 minutes until onions are very soft and beginning to brown. Turn off the heat, then add bone broth, Worcestershire sauce, and tomato paste. Stir to combine, then set aside to cool.

In a large bowl, gently combine bison, lamb, rice cake crumbs, egg whites, and onion mixture. Pour into a large loaf pan lined with parchment paper.

Spread ketchup evenly on top of the meatloaf mixture. Crumble the bacon slice and sprinkle over the top.

Bake the meatloaf for about 1 hour and 30 minutes or until the meat is cooked through. Enjoy warm with your favorite sides veggie and mashed potatoes!
Notes
If you aren't able to find this combination of meat, you can also do any combination of bison, lamb, pork, and veal.
I used this Ketchup because it's made with high quality ingredients without unnecessary added sugars.
These Rice Cakes are a great glyphosate-free alternative to standard breadcrumbs that are highly processed and can irritate the gut.
I prefer using this Vegan Worcestershire Sauce , not because I'm vegan, but because I found they use the least amount of inflammatory ingredients without sacrificing flavor!