This recipe has been on repeat in my kitchen pretty much ever since the pandemic started! Every week, I buy a whole chicken to make this loaded soup to give me that extra boost of vitality and plenty of quick meals throughout the week.
What's special about this dish is the gut-healing, collagen-rich bone broth! Now, more than ever, we have to proactively protect and enhance our body's immunity. There's no better way to do that than with the super powers of bone broth. By cooking a whole chicken (skin, bones, giblets, and all) in a veggie-dense broth with raw apple cider vinegar, you extract all the vital nutrients and vitamins needed to revitalize your entire body. Bone broth helps to lubricate the joints, promotes a healthy microbiome, reduces inflammation, and supports glowing skin, hair, and nails!
Cooking with the whole chicken also gives you that warm hug of comfort in every spoonful. I add tons of colorful vegetables so that every bowl satisfies you more like a hearty stew, making this a perfect any-time meal.
I love serving this Chicken Bone Broth Soup with a few glugs of Cholula hot sauce and freshly diced avocado.
Try it out and let me know what you think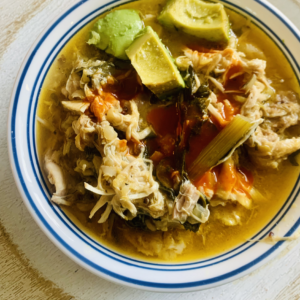 Instant Pot Chicken Both Broth Soup
Ingredients
1

4-5 lb

organic, free-range whole chicken

giblets included

1

tbsp

Avocado oil

3

medium carrots

chopped

3

celery stalks

chopped

1

yellow squash

chopped

1/2

medium red onion

chopped

4

garlic cloves

chopped

1

bunch

Swiss Chard

ribbed removed

1

bunch

fresh herbs

parsley, cilantro, dill or combination

2

bay leaves

1/2

tsp

turmeric

1/4

tsp

cayenne

3

tbsp

raw apple cider vinegar

1

tbsp

pink salt

2

tsp

freshly cracked black pepper

1-2

cups

water
Instructions
Select "Saute" mode on Instant Pot. Heat avocado oil on low for about 10 minutes.

Add garlic, onion, carrots, celery, swiss chard, and squash into pot. Stir occasionally to combine until veggies are translucent and swiss chard has wilted half in size.

Turn off "Saute" mode, then nestle whole chicken and giblets on top of veggies.

Add bay leaves, dried seasonings, fresh herbs, and apple cider vinegar into the pot.

Pour enough water to surround the chicken and reach the half way fill point on the Instant Pot.

Cover Instant Pot with lid and set to "Pressure Cook" on high for 1 hour and 30 minutes.

After cooking is completed, allow the pressure valve to naturally release.

Using tongs, carefully remove the whole chicken from the Instant Pot and transfer to a large cutting board or flat workspace. Chicken will be very tender.

Using a fork and tongs, remove chicken skin and bones to discard. Shred chicken meat and add back into the Instant Pot.

Season Chicken Bone Broth with more pink salt, if desired, and enjoy!