Nothing reminds me of childhood quite like the sweet smell of toasty cinnamon and caramelizing dough wafting from the kitchen on a lazy Sunday morning. My sister, Bee, and I would giggle as we took turns carefully peeling back each strip of vacuum sealed Pillsbury packaging until one of us was jolted by that infamous *POP* of ready-to-bake cinnamon rolls escaping like confetti. I swear opening that dang container actually freaked me out and I was always scared to do it alone!
Needless to say, times have changed. Long gone are the days of both eating and fearing the opening of instant processed foods, but my love for sharing tender moments with family and experimenting in the kitchen never dies.
The other Sunday, I started my day slow and with a taste for a warm breakfast to fuel me before an intense training session. Nothing seemed more fitting than a cinnamon roll. I was determined to create one that was not only decadent and sweet, but one that nourished, digested easily, and would leave me feeling more energized after I enjoyed it. Sound impossible?
My insatiable crusade for sweets made with savvy continues here! These cassava flour based rolls are fluffy yet hearty. I infuse the dough batter with my favorite Salted Caramel Bone Broth Protein for more balance and appetite satisfaction, sweet potato puree for added fiber and moisture, monk fruit as a natural sweetener, and plenty of cinnamon so each bite is like a cozy hug!
You can't have cinnamon rolls without icing, right? My version couldn't be easier with just three simple ingredients that (if they aren't already) will become staples in your pantry! Peanut butter powder is potent in nutty flavor without the heaviness or thickness of traditional peanut butter. The icing comes out glossy, luxurious, and not overly sweet.
Brew yourself a cuppa, bake these guys, and seize the day! An indulgent breakfast no longer has to slow you down with sugar crashes or guilt. My Salted Caramel Peanut Butter Cinnamon Rolls will be a hit in your home on any ordinary morning or work perfectly for a festive brunch!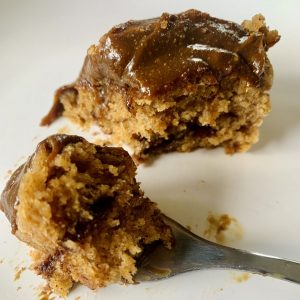 Salted Caramel Peanut Butter Cinnamon Rolls
These morning buns will warm your soul with each fluffy bite of sweetness.
Ingredients
For the Rolls:
3/4

cup

cassava flour

1/4

cup

salted caramel protein powder

2

tsp

xanthan gum

2

tbsp

monk fruit

2

tsp

cinnamon

1

tsp

baking powder

1

pinch

pink salt

4

tbsp

coconut oil

melted

2

eggs

organic, pasture-raised

1/4

cup

sweet potato puree

unsweetened
For the filling:
3

tbsp

monk fruit

2

tsp

cinnamon

3

tbsp

ghee
For the icing:
1/4

cup

coconut nectar

1/4

cup

peanut butter powder

2

tsp

coconut oil

melted
Instructions
Preheat the oven to 350°F and grease an 8-inch cake pan coconut oil. Set aside.

For the filling: Combine all ingredients of the filling in a bowl and mix until incorporated. It should resemble a wet sand consistency. Set aside.

For the rolls: In a large bowl combine flour, protein powder, baking binder, monk fruit, baking powder, cinnamon and salt. Next, add eggs, coconut oil, and sweet potato puree. The mixture will begin to thicken and form a sticky dough.

Dust a clean work surface with extra cassava flour and transfer the dough from the bowl to the work surface. Gently work the dough together with your hands until it forms a cohesive mound.

Carefully roll the dough into a flat rectangular shape, about 1/4-inch thickness.

Sprinkle the filling mixture evenly over the dough. Starting from the long side of the dough, carefully begin to roll into a log. Use as much additional cassava flour as needed to prevent the dough from cracking or sticking to the work surface.

Cut the rolled log into 6 to 8 equal pieces and nestle into your prepared pan.

Bake rolls for 25 minutes.

About 10 minutes before the rolls are done baking, prepare the icing.

In a small saucepan combine all icing ingredients over low heat. Stir until evenly combined and warmed through.

Remove the rolls from the oven. Immediately dress with icing evenly on the tops of each roll and enjoy!