If you've been around here for a while, you probably already know about my E-Cookbook, Sweet N' Savvy, where I dish out all my best healthy recipes to help you indulge with intelligence. My favorite section of the cookbook is the section on Treasure Cakes, in which I share the creations I developed for my subscription cake delivery service in Miami I ran a couple years back. SO many fun memories, but man, was my kitchen a disaster from all that constant baking! It was totally worth it.
This Flourless Lemon Squash Cake was inspired by the base recipe for my Treasure Cakes. It has the same rich and dense consistency like fudge from kabocha squash. The high water content of the squash keeps the cake super moist, and the added fiber is what makes each bite hearty and filling in the lightest way possible. And did I mention, veggies for breakfast? Doesn't get easier than this, guys.
I got the idea for this cake when I got bored with my breakfast rotation which was either a smoothie, oatmeal, or eggs. Nothing motivates me more than starting my day on the sweeter side, so I knew I wanted to make a healthy cake that wouldn't compromise on the nutrients I needed to set me up for energy and satisfaction until midday.
When baking dessert cakes, I love using a small amount of honey or low glycemic sweeteners like coconut sugar. Since this cake was specifically designed for a breakfast (you can totally enjoy for dessert too!), I wanted to try going completely unprocessed with ingredients. Organic stevia leaf and Medjool dates give just enough sweetness to perk you up and may or may not fool you into believing this is actually 1000% healthy.
Going along with the breakfast theme, I thought it would be fun to replace traditional nut flours for sprouted oats, which is a complex carbohydrate that digests slowly and evenly. Then, I couldn't resist a pop of freshness with lemon juice and zest. It really is the perfect flavor to wake up to and get you excited for your day. The turmeric and ginger round out all the flavors and pack serious anti-inflammatory benefits.
This Breakfast Cake tastes as amazing as it looks with its gorgeous yellow-orange hue. One of my favorite parts of this recipe is that you can whip it up in no time by mixing everything in your high-speed blender! The only prep work required is pre roasting your squash at 400 degrees Fahrenheit for about 30 minutes until it's nice and soft.
I'll be sharing more variations of this Cake soon, so be sure to try this one out then come back for more, friend!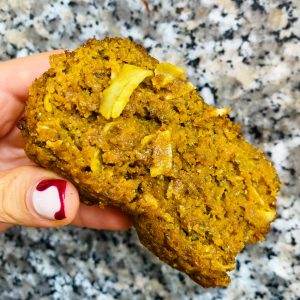 Flourless Lemon Squash Breakfast Cake
For those who wake up with a sweet-tooth, start your morning with a thick slice of this healthy and nutrient-dense loaf. Packed with energizing fats, filling protein and bright citrus notes, this will be the perfect kickstart to your busy day.
Ingredients
1/4

cup

sprouted rolled oats

30

grams

protein powder or collagen

1

tbsp

unsweetened coconut chips

optional

1

tsp

baking soda

1

tsp

ground stevia leaf

1/2

tsp

ground ginger

1/2

tsp

ground turmeric

pinch

Pink Himalayan salt

2

Medjool dates

pitted

2/3

cup

roasted kabocha squash

unseasoned, skin on

1/4

cup

coconut oil

melted

2

eggs

organic, pasture-raised

2

tbsp

lemon juice

freshly squeezed

1

tsp

lemon zest
Instructions
Preheat the oven to 350 degrees Fahrenheit. Line an 8X4 loaf pan with parchment paper.

In a high speed blender, combine pre-roasted kabocha squash with skin on along with eggs, dates, melted coconut oil, lemon juice and zest until well incorporated.

Into the blender, add oats, protein or collagen supplement, baking soda, stevia, ginger, turmeric, and salt. Mix until just combined. Fold in coconut chips if adding. Batter should have a thick consistency.

Pour cake batter into prepared loaf pan and bake for 30 minutes. Cake should be golden brown and is ready when a toothpick inserted in the center comes out clean.

Store cake in an airtight container in the fridge for up to 2 weeks.
Want access to more nutritional nuggets? If you're ready to dig into your clean eating, heal your relationship with food, and become a savvy chef at home, I invite you to join me in my upcoming program!
The Elite Vitality Program is a 90-day experience that includes:
Personalized On-Demand Training

Live 1:1 Coaching & Accountability

Proven Nutritional & Wellness Plans
There are limited spots available, so if you're ready to look, feel, and perform your best this year, join the waitlist HERE today!