Wild caught halibut, plantain chips, and a pasture-raised egg make the golden trio of ingredients needed to create this Pescatarian-friendly meal. Given you have some cooking staples on hand like avocado oil for frying, pink salt, and fresh cracked pepper for seasoning – you'll have this sophisticated, restaurant-style entree on the table in no time!
The plantains give a buttery and crunchy exterior to the hearty flesh of the halibut. This technique proves you don't need traditional breadcrumbs (made of highly processed and gut-irritating ingredients) when you can opt for nutrient-dense whole superfoods instead.
The subtle banana sweetness elevates each crispy bite, transcending you off to a Caribbean vacation without even leaving home…
Click HERE for a video demo of how it's done!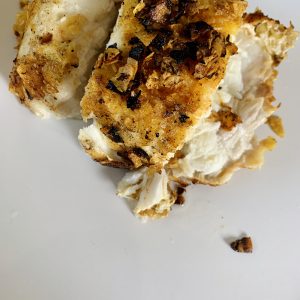 Plantain Crusted Halibut
This 3 ingredient recipe is my favorite way to eat halibut. This will remind you of a Caribbean fish fry that tastes perfectly light, crispy, and incredibly satisfying.
Ingredients
1

lb

Halibut filet

fresh & wild caught

5

oz

Plantain chips

2

tbsp

avocado oil

1

egg

pasture-raised

1/2

tsp

pink salt

1/4

tsp

cracked pepper
Instructions
Rinse Halibut filet and pat completely dry. Season with 1/4 tsp salt and 1/8 tsp pepper and set aside to come to room temperature.

Heat 1 tablespoon of avocado oil in cast iron skillet over medium heat.

Pour plantain chips into a resealable bag and mash into very fine crumbs.

Pour plantain chips into a shallow dish and spread out in an even layer. Set aside.

In another shallow dish, whisk egg and season with 1/4 tsp salt and 1/8 tsp pepper.

Begin the breading assembly. First, thoroughly coat both sides of the halibut in egg mixture.

Next, transfer halibut to the plantain crumb dish. Firmly press the fish into the crumbs on one side, then gently flip to coat the second side. Make sure as much of the halibut is covered in crumbs.

Carefully transfer plantain-breaded halibut to heated cast iron skillet skin side down. Fry for about 6 minutes, or until about halfway cooked and crispy. This will depend on the thickness of your filet.

Slowly flip the halibut to finish cooking on the second side. Leave heat on for about 4 minutes, then turn off heat and allow to cook for another minute or so. The halibut is cooked when the inside flesh flakes apart and no longer is opaque.

Finish the halibut off with another sprinkle of pink salt and a few drops of your favorite hot sauce to enjoy!
Notes
Be sure to use the highest quality plantain chips cooked in coconut oil and seasoned only with sea salt. I love using these.
Steer clear of the brands that use highly refined vegetable oils that inflame the body.
When coating your fish in the plantain crumbs, if you find some crumbs don't fully stick - don't fret! Totally normal. The breading isn't supposed to be perfect. I like to take the remaining crumbs and egg mixture and fry it all together in the pan for an extra crispy scrambled egg snack!