For so many years, I have been trying to perfect a healthier take on one of my all-time favorite comfort foods: lasagna. The biggest culprit was finding an alternative for the traditionally refined gluten noodles. And while I had experimented with layering veggies and cheese before, I wasn't a fan of all the extra water content. And to be quite honest, it didn't give that warm and fuzzy feeling of lasagna that I craved!
Thanks to brands like Cappello's, now we can have it ALL! Their grain-free, gluten-free, paleo-friendly almond flour based noodles taste incredible, like eating fresh, homemade pasta from Italy. The lasagna sheets really make this dish special and provide the same soft noodle texture we're used to.
As with any other dish, my goal is to always prioritize the protein and veggies first so that each bite is a mouthful of balanced nutrition, keeping us satisfied, energized, and totally indulged.
And what would a lasagna be without some creamy cheesiness? I toned down the dairy by using part almond-based cream cheese and ricotta by Kite Hill . The combination of the two keeps this dish surprisingly light.
I can't wait for you to try this recipe and share with your loved ones! It is sure to please the whole family…even pickier eaters! It's quick to prepare, making it an excellent weeknight dinner solution that will yield plenty of even more delicious leftovers. And the fact that it's nutrient-dense and fitness-friendly?! That is why this recipe is about to change your world and redefine how you think about Italian food.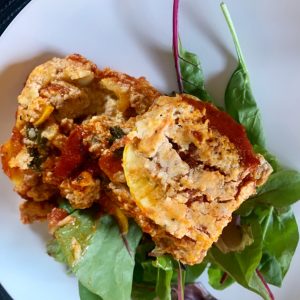 Dairy-Free Lasagna
This isn't your traditional layered pasta dish because it's gluten-free, grain-free, and even dairy-free! This healthified comfort food is easy to prepare and tastes even better for leftovers!
Ingredients
1

tbsp

avocado oil

2

lbs

organic ground chicken

1

cup

organic baby spinach leaves

1

tbsp

dried Italian seasoning

1

lemon

juiced

1

32 oz.

jar marinara sauce

1

tsp

pink salt

1/2

tsp

freshly cracked pepper

1/4

cup

Kite Hill cream cheese

1/2

cup

Kite Hill ricotta

2

tbsp

unsweetened nut or oat milk

1

organic medium yellow or green zucchini

thinly sliced

9

oz.

Cappellos Grain Free Lasagna Sheets

thawed

red pepper flakes

to taste
Instructions
Preheat oven to 400 degrees.

Line a 6X6 casserole dish with a layer or aluminum foil followed by a layer of parchment paper. This makes for easy clean up! Then drizzle avocado oil into dish and swirl to evenly coat the bottom surface.

Heat a large nonstick skillet over medium-high heat and add ground chicken and spinach. Season with salt, pepper, Italian seasoning, and juice of lemon. Occasionally stir until evenly cooked.

While the chicken cooks, prepare cheese mixture. In a medium bowl, combine Kite Hill cream cheese, ricotta, unsweetened nut milk (I used oat), and an extra pinch of salt and pepper to taste. Set aside mixture.

Next, cut zucchini into wide, thin slices. Set aside.

When chicken is fully cooked, turn off heat and carefully transfer to another mixing bowl to cool.

Begin lasagna assembly. Spoon a few tablespoons of marinara sauce at the bottom of the oiled casserole dish and spread out evenly.

Add a layer of the lasagna sheets, making sure to cover the entire surface of the dish.

Next, dollop a few tablespoons of the cheese mixture on top of the lasagna sheets. Not too thick, but not too thin of a layer.

Spoon a layer of ground chicken. This recipe is designed to be high-protein, so don't be shy with the portioning here!

Lastly, add enough of your zucchini slices to create the last thin layer. Make sure none of the slice overlap, so that they all cook evenly.

Finish with another layer of sauce.

Continue repeating your layers starting with lasagna sheets, cheese mixture, ground chicken, zucchini slices, and sauce until you fill up your casserole dish. End your last layer with sauce then any remaining cheese mixture.

Cover your casserole dish with aluminum foil and bake in the oven for about 35 minutes.

Carefully remove casserole dish from oven, remove foil, and lower oven temperature to 375 degrees.

Continue to cook lasagna for another 15 minutes. It should be getting golden brown and bubbly.

Remove lasagna from oven and allow to cool and set on counter for about 10 minutes.

Cut into thick squares and top with a sprinkle of red pepper flakes. Dig in!
Notes
This exact recipe would also be equally delicious with ground turkey, ground bison, or ground beef. You decide!
Marinara sauce I used
I love the combination of Kite Hill's almond-based cream cheese and organic dairy ricotta. If you'd like to go all dairy-free, Kite Hill also makes an excellent ricotta alternative with only the best ingredients! Both can be found at Whole Foods.
Oat milk I used
Cappello's products will change your world! They have the most amazing texture of fresh, homemade pasta. You will most likely not use your entire box for this recipe, so be sure to store leftovers in a airtight baggy in the freezer for a later use. You can find in the frozen section at Whole Foods.