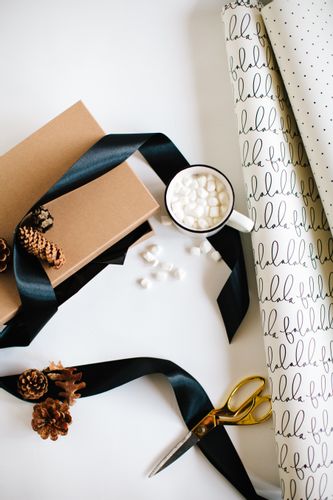 'Tis the season of giving! If 2020 has taught us anything, it's the importance of health! To me, there's no better feeling than expressing my love and appreciation for someone special with a gift that's both thoughtful and health-conscious. If you need some inspiration or you're stuck on what to buy your loved ones for this holiday, here are some unique, and useful gift ideas that will elevate their mind, body, and spirit with vitality! If you need extra testimony, I can proudly say I have personally invested in each of these products and happily rated them all 10 out of 10.
Imagine giving yourself a head-to-toe massage everyday with the added bonus of a smooth and adjustable vibration. This is no traditional foam roller. An essential tool to have at home, in your workspace, or for your home gym collection, this roller helps to warm up the body in preparation to live life to the fullest. The daily practice of self-myofascial release boosts circulation and loosens up joints so you can move freely, perform at higher levels, and prevent injury. Perfect for the fitness noob, the athlete, or the busy mom always on-the-go.
You're probably familiar with "clean eating", but have you ever considered the benefits of clean skincare? In the same way that the foods we choose to put into our bodies reflect the quality of strength, energy, and vitality we get – the same principle applies to the products we apply to our skin. Credo is my home base for chemical-free and sustainable brands that are transparent with their ingredients. They've put together the cutest clean skincare set together to kickstart a healthy beauty routine with the best quality products. Perfect for the makeup lover, the serial selfie-taker, or the girly girl who's craving a glow.
Real talk: how excited would you be knowing you didn't have to grocery shop for your proteins for at least a month or more?! Pretty amazing, right? But that's not even the best part about this gift. What makes ButcherBox special is their delivery of exclusively high quality meats. The steaks and ground beef are grass-fed and grass-finished. The chickens are free-range and organic. By eating animals raised with integrity and fed a healthy diet, we gain more vitamins, nutrients, energy, and flavor! Whether your giftee is a seasoned home cook, knows how to make frozen pizza, or is somewhere in between, this gift box is a keeper! With lockdowns and restaurant closings, this box of meaty goodness is a great way to make date nights in and meal prep more exciting!
4. Blue Light Blocking Glasses
I don't know anyone who isn't spending more time on screens nowadays. This is the digital age and time spent online isn't going anywhere any time soon. However, let's not forget that we are not machines! We are living, breathing beings who still need nature and sunlight to survive and perform optimally. Our phones, TVs, computers, and house lights all give off blue light, which suppresses our melatonin production. Melatonin is our body's hormone for regulating sleep. Throw on these fashionable shades after dark so you can shield your eyes from the blue light, get sleepy for bedtime, and enjoy a deeper and more restful night of sleep.
5. Coconut Cult Probiotic Yogurt
I'm not going to lie, this one is definitely a splurge. If you've got someone on your list who is obsessed with gut health (everyone should be!) , a coconut lover, or an ice cream enthusiast, let me introduce you to The Coconut Cult. Yogurts have become known as a superfood for their probiotics which are living bacteria that contribute to the diversity and vitality needed to keep the digestive system healthy. A thriving gut boosts our immunity, protects us from inflammation, and chronic disease. I've scoured the market high and low for the best yogurts and there's really nothing quite like this one. It took me a while to justify paying a whopping $39 per jar until I finally tasted this incredibly delicious and fermented indulgence. The Coconut Cult nurtures small batches of highly active probiotics yielding 25 billion probiotics per servings! Because each decadent lick is so potent, you only need a few spoonfuls per serving, but boy does this yogurt make an exquisite topping to a smoothie bowl, a stack of pancakes, or a healthy anytime dessert.
The ultimate athleisure brand for sleek and chic looks that are totally functional for any and all types of workout. The Koral High Rise Lustrous Legging comes in a variety of gorgeously shimmery hues, which just screams "party!". They dry quickly to keep you feeling cool and refreshed after a good sweat.The leggings hug the skin but are plenty stretchy, making them super comfortable to lounge in when you're not exercising. Other than maybe New Years Eve, how many other occasions do we get to dress up in something as sparkly and glamorous as this? There's no better way to pump yourself up to workout than with some beautiful workout gear. These are.a hit.
7. TRX
Prepare to take your home workouts to the next level with this one. This portable suspension training set is a staple in every one of my client programs. I love how incredibly versatile the TRX is for training full-body. You can adjust the straps in a variety of ways to diversify your level of intensity and type of exercise. Just hook the TRX straps to the top of a sturdy door or tree, and you've got yourself everything you need for the ultimate workout. Whether you want to burn fat, gain strength, or increase mobility, this TRX will become your new best friend.
Given the turbulent energy of this past year, it's become more important than ever to go inward, get centered, and sustain the momentum needed to live our best life. Gifting someone special with a high performance journal like this one is a loving gesture of intention and gratitude. It serves as a tangible reminder to value one's dreams and the preciousness of life. Created by bestselling author and leadership expert, Michael Hyatt, this journal helps you how to "win at work and succeed at life." You'll learn how to focus on your needle-moving goals, prioritize daily tasks like a pro, and celebrate your wins. This gift will kickstart your giftee into a productive and meaningful 2021.
That's all for now, folks! These gift ideas are far from ordinary…they're EXTRAordinary! They will boost your loved ones with vitality in some new ways to help them look, feel, and perform their best in all facets of life.
If you're interested in more healthy holiday tips, be sure to check out my Free Holiday Survival Bundle HERE. Inside you'll find healthy recipes, a daily habit checklist, and my best suggestions on how to stay on track towards achieving your fitness goals during the holiday season.