By now you've probably heard me preach about protein – and for good reason, friend!
Eating a protein-dominant diet not only provides our body with the nutrients we need to nurture our muscles, helping us to maintain a healthy metabolism, and fight weight gain.
Incorporating protein with every feeding also gives us the opportunity to feel more satisfaction from our meals. When we combine quality sources of protein with colorful veggies, high energy carbohydrates, and healthy fats we stabilize our blood sugar and optimize our energy levels. Goodbye cravings, mood swings, and hanger!
Since we're eating protein all the time, we might as well make it taste delicious and indulgent! This is my prized Pork recipe I love to make at the beginning of a busy week. It requires minimal prep work and cooking with the Instant Pot is super low-maintenance – you literally set it and forget it.
Thicker bone-in cuts like this Boston Butt are especially convenient as they yield larger portions so you'll be able to repurpose the leftovers for more meals throughout the week.

This recipe was inspired by the irresistibly juicy and tender carnitas you'd find piled up on a toasted corn tortilla of an authentic Mexican taco. As per usual when I get a craving, I dream up of a healthier way to recreate it at home.
The dried seasonings are vibrant and fragrant, filling the kitchen with that inviting aroma of love and Latin hospitality.
The rest of the flavorings are simple but pack a punch. I chose olive brine, really just because it was the only salty acid I had on hand! You could certainly use a red wine or apple cider vinegar instead. The sweetness of the maple syrup and low-glycemic coconut sugar offset the spice and smokiness of the Chipotle hot sauce.
This entree is sure to please the bacon lover or the pork skeptic. I'm all about getting as much bang out of one recipe – and this one definitely delivers. Each bite of these Carnitas explodes with mouth-watering flavor and a luxurious softness that tastes like your grandma was cooking it all day long.
Comment your questions below and let me know how you like these!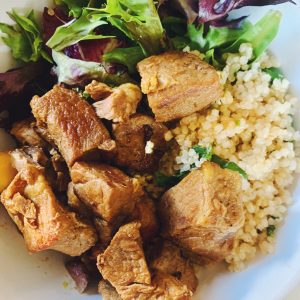 Instant Pot Pork Carnitas
For when you're craving that Chipotle burrito bowl or have a taste for Mexican, this melt-in-your-mouth pork recipe will become a regular on your weekly menu and is perfect for entertaining a crowd.
Ingredients
1

2 lb

Boston Butt

Bone-in

1

tbsp

Avocado oil

1

tsp

Turmeric

Ground

1

tsp

Mustard seed

Ground

1

tsp

Cumin

1

tsp

Smoked paprika

1/2

tsp

Coconut sugar

1/4

tsp

Cayenne

1/4

tsp

Pink salt

1/4

tsp

Black pepper

Freshly cracked

1

tsp

Maple Syrup

1/4

cup

Olive brine

1/2

cup

Cholula Chipotle Hot Sauce

1/2

cup

Water
Instructions
Set out Boston Butt on counter for about 30 minutes, allowing meat to come to room temperature.

In a small bowl add turmeric, mustard seed, cumin, smoked paprika, coconut sugar, cayenne, salt, and pepper. Mix well to evenly combine and set aside.

Select "Saute" mode on Instant Pot. Heat avocado oil on high for about 15 minutes.

Meanwhile, use a sharp butcher knife to trim the excess fat off the Butt. Working around the bone, cut the Butt into as many 1-inch bite size chunks as possible. Reserve the bone!

Working in batches, add pork chunks to heated Instant Pot to sear until golden brown on the outside. Remove seared chunks from Pot and set aside.

Turn off the Instant Pot. Then deglaze the Pot by adding in the hot sauce, water, olive brine, and maple syrup. Scrape the surface of the Pot to remove any cooked bits of flavor from sticking.

Add all of the seared pork chunks back into the Instant Pot along with the bone and the dried seasoning blend. Stir to combine.

Fasten the lid onto the Instant Pot with the valve in sealed position.

Select "Pressure Cook" mode on Instant Pot and cook for about 30 minutes. The pressure will naturally release.

Once finished cooking, use a fork to break up the pork chunks if you want more of a shredded texture. You shouldn't have to do much for the meat to fall apart!

You can discard the bone or save to make your own nutritious bone broth.

Serve Carnitas with its juices atop Cilantro Quinoa, greens, or your favorite veggie!
Notes
Feel free to adjust spice by either eliminating or decreasing the cayenne and black pepper. I recommend keeping the same hot sauce measurements as it adds so much rich flavor to the dish! Plus, the Chipotle Cholula is actually quite mild in heat.
Great option for batch cooking and meal prep.
To store leftovers, allow Carnitas to fully cool then place in a glass Tupperware and refrigerate for up to 3 days.
To reheat leftovers, skim any excess fat from top of Tupperware container. Spoon out desired serving onto a baking sheet and warm at 325 degrees Fahrenheit for 20 to 25 minutes. You can also reheat in a saucepan over medium-low heat for about 10 minutes or until warmed through.