Cue the meal prep fairy dust! My recipe for a Crispy Whole Roast Chicken with Roasted Veggies will become a game changer for you and your family's weekly menu. I used to be so intimidated whenever I imagined roasting a whole chicken by myself at home. Roasted chicken has always been one of those down-home comfort foods I regularly ordered off the menu of my favorite steakhouses and neighborhood diners. Little did I realize just how easy it is to do it myself…and so can you!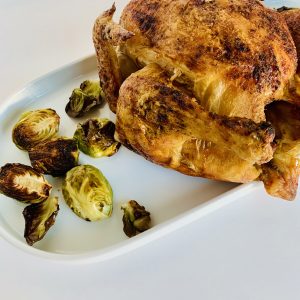 Crispy Whole Roast Chicken with Roasted Veggies
Ingredients
1

5-lb

whole organic chicken

2

tbsp

avocado oil

divided

1

lemon

halved

1

tsp

turmeric

1

tsp

smoked paprika

1

tsp

Old Bay seasoning

1

tsp

pink Himalyan salt

1/2

tsp

white pepper

1/4

tsp

nutmeg

3

cups

veggie medley (brussels sprouts, carrots, peppers, potatoes)

chopped
Instructions
Remove whole chicken from refrigerator to set out and come to room temperature. Preheat oven to 400 degrees Fahrenheit.

Prepare a large baking sheet with a layer of aluminum foil followed by a layer of parchment paper. Set aside.

Chop root veggies into 2-inch chunks and spread evenly on prepared baking sheet. Drizzle about 1/2 tbsp of avocado oil over veggies, season with pink Himalayan salt and pepper to taste, then toss together until evenly combined.

Prepare the chicken. Remove giblets from inside the cavity. Save them for roasting if you like, they're packed with nutrients! Then, rinse your chicken well and pat completely dry with paper towels.

Place chicken on a roasting rack on top of baking sheet with the veggies. This will keep prep area clean. Start by drizzling one side of the chicken with 1/2 tbsp of avocado oil and spread evenly to coat the chicken. Season with half of all dried seasonings. Flip the chicken over and repeat with oil and seasonings.

Next, sit the chicken upright so the cavity is facing up. Season inside cavity with a bit more salt and pepper. Squeeze the juice of 1 lemon, then add the lemon halves into the cavity.

Place your chicken breast side down on the roasting rack. You can use some twine to tie the legs together for more even cooking, but I honestly never do and this recipe works like a charm without!

Transfer chicken on roasting rack into preheated oven. Make sure the chicken is centered.

Immediately add veggies into the oven, placing them directly under the chicken. This is key because the veggies will catch all the chicken drippings to soak up the juices and flavor!

Roast chicken and veggies for 30 minutes. After 30 minutes, use a set of tongs or pitch forks to carefully flip your chicken to breast side up. Continue to roast for another 15 minutes.

Lower the oven temperature to 350 degrees Fahrenheit and finishing cooking for 30 minutes.

Remove chicken and veggies from the oven. Allow chicken to rest for at least 10 minutes before cutting in.

Carve up your chicken and serve with roasted veggies. Chicken stores best in an airtight container in the fridge for up to 4-5 days.
Here's why this recipe magical: with only about 15 minutes of prep (you could cut it down even more if you're a real over-achiever), you get at least 2-3 meals from this recipe. Now, of course this depends on how many mouths you're feeding, but even still, you can always double up the recipe by adding a second bird and extra veggies for a bigger batch. What I love about this recipe is how resourceful it is – which is really the essence of efficient and delicious meal prep. By using the whole chicken, as opposed to just the breasts or thighs, you benefit from a plethora of nutrients, vitamins, and collagen from the bones. On top of that, you don't need to fuss with a separate recipe to prepare your veggies because their downstairs sopping up all the yummy chicken juices, which means one less thing to do for you!
And because I'm a foodie at heart, I can't forget to share the actual best part about this recipe – which is the incredible, better-than-a-restaurant flavor you're about to experience. When you buy quality-sourced chicken and season it with the best superfood ingredients like avocado oil, smoky spices, and really good salt – good things inevitably happen. The skin comes out super crispy after roasting on high heat, but then you also get that melt-in-your-mouth tender chicken after letting it roast on a lower temperature for the last 30 minutes.
I'm confident this recipe will inspire some tasty memories on your family's dinner table. It's comfort food made simple and healthy. When you fall in love with it, get creative by switching out the seasonings, try lime instead of lemon, and change up your veggie sides.
Dig in, friend!